How come I do not get one of the rings or the silver?
Today's Reflection from Father Dave
"How come I do not get one of the rings or the silver?" "Because you will just hawk it," was the response of my sisters. One of the greatest gifts given to their children by my parents was sitting down with the clan and going through the family estate, dividing up the spoils. We sat around the dining room table, taking turns selecting articles that would be passed on to us. When it came my time to pick Dad placed the cookie jar in front of me and said, "This is yours; your hand was in it often enough." Yes, my siblings got the wedding rings of grandparents and parents; some would receive the silver or fine china. My take that day was a cookie jar and a beer stein. Yet, I also received the richest gift: my dad's cross.
I received an email from a parishioner who shared about the cross he carried in his pocket and the prayer that went with it called, The Cross In My Pocket. He would have liked my dad, as that prayer was what my father believed about the cross he wore. You see, when my father was soon to be shipped off to the war in Europe he purchased this cross and chain to wear. He wore it everyday for the next 60+ years and gave it to me on his death, and I continue to wear it. On this Friday in Lent I share the words of that prayer, adapted for my dad and me:
I wear a cross a simple reminder to me
Of the fact that I am a Christian no matter where I may be.
This little cross is not magic, nor is it a good luck charm.
It isn't meant to protect me from every physical harm.
It is not for identification for all the world to see.
It's simply an understanding between my Savior and me.
When I touch my hand to my chest
The cross is there to remind me of the price He paid for me.
It reminds me, too, to be thankful for my blessings day by day,
And to strive to serve Him better in all that I do or say.
It is also a daily reminder of the peace and comfort I share
With all who know my Master and give themselves to His care.
So I wear a cross around my neck reminding no one but me
That Jesus Christ is the Lord of my life if only I'll let Him be.
Father Dave's Cross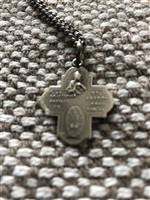 You can see a photo of the cross and it is not blurry, just the images have worn down after 75+ years of resting against our hearts. Yes, we have a cross to carry during these uncertain times, but there is a comfort in placing it on my shoulders and over my heart, this cross that has seen other difficult times. It is a reminder of my father's quiet, lived-out faith and the extent our Heavenly Father would go for His beloved children.
In Faith, Hope, and Love,
Father Dave